Award Winners Clings & Stickers - Online Shop
livepages::jquery();?>
These clings & stickers can be made using any award badge! So if your award is not listed above, don't worry - select the 'other' award option when ordering & I just need the artwork you have to create it for you! I have left options for both the old and new style #SBS badge so be careful when selecting that you choose the option you would like. Please e-mail your new style #SBS personalised badge artwork if this option is chosen.
Window clings
The regular clings are single sided and designed to be displayed through a window with a plain white reverse. However there are options available to ensure you receive a cling which will suit your requirements. Double sided versions are also available which have the image on both sides.
When placing your order, please ensure you select how you would like the backing of your cling to be (note, double sided clings do not have backing choices). Your options are:
Standard White - Recommended in most instances. The back is solid white (non cling) which enhances the colours on your image when displayed on a window and avoids a reverse image being viewed from behind.

Clear - Reverse is clear (non cling) and both sides of the cling to be visible. Colours may be duller than the standard white option when displayed in front of a dark background but will be brighter when lit from behind. The image can be viewed from the back but all lettering/images will be backwards on this side. *Please note, this is not the same as a double sided cling which has the full image readable on both sides

Reverse Cling - This is a clear cling with the clinging properties on the reverse which is required if you plan to use on a mirror
Stickers: single sided will have an image on the front & an adhesive reverse. Can be used on shiny or non shiny surfaces, vehicles & many other surfaces. Removable with care and can be used outdoors as well as indoors. Please note single sided stickers cannot be placed to be viewed through a window - please order a window cling or double sided sticker if this is required. Stickers are alternative options to clings for external use or areas which may require a stronger adhesion
Your sticker options are:
Single sided - white on reverse with adhesive to attach to your surfaces

Double sided - white sticker but the design is repeated on the adhesive side so will show through a clear surface such as a window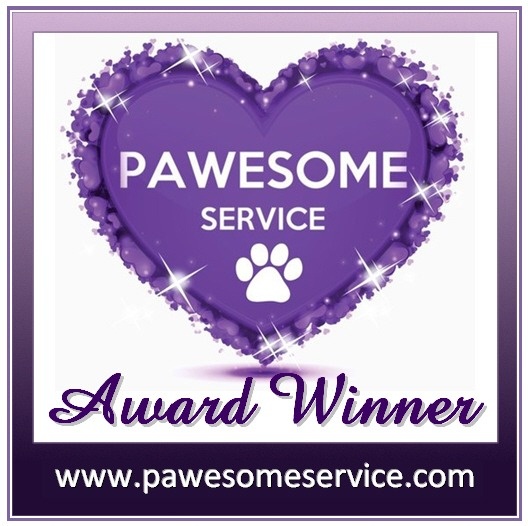 You may have received a cling as part of winning your award (e.g. Pawesome Awards) - you can order more copies here too. Use the 'other' option & list the awards you require if not an option in the drop down list already.
There are two sizes available which are:
Standard - 13 cm diameter / 18 cm max width (rectangle)

Large - 20 cm diameter / 25 cm max width (rectangle)
Once you have placed your order, you will receive a confirmation e-mail containing your order number please email a copy of your badge artwork to me at

[email protected]

quoting this order number for easy identification.
Artwork can be accepted in .JPG, .GIF, .PNG or .PDF format. Please send a large size graphic to ensure this can be reproduced clearly. If you have any queries, please contact me on 01732 862545 for assistance.
---
Important Information Regarding #PurpleBiz or #PDNBB_bizofweek clings
You need to order your badge artwork first from LF Designs to enable me to create these products for you. Place your order & I will proceed as soon as the artwork is received (Barry will even cc the e-mail containing your badge to me if you ask him nicely!)

Should you have any queries regarding the above, please do not hesitate to ask!
Showing 1 - 4 of 4 results