Usage & Care
The handmade peelable window decorations you can purchase through this site are high quality, non-toxic decorations which give the look of real stained glass at a fraction of the cost. All are made by myself in Kent, England which means that no two are absolutely identical! You can see me at various fairs around the south east. Please see the Fairs List for confirmed dates.
Please note that whilst every effort has been made to give an accurate description of the items for sale, due to the nature of digital photography and the difference in monitors there may be a slight difference in colours.
General Usage
Applying your decoration is very simple: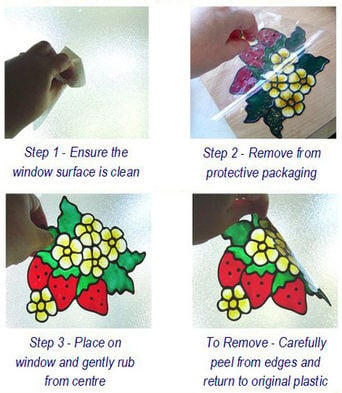 Are these peelable decorations for use on windows only?
No. They can also be used on any item which has a shiny surface e.g. mirrors, ceramic tiles, glass vases, fridges. The application process is exactly the same for any shiny surface. They are not suitable for use on painted surfaces as the high pigments may leave a permanent mark and the surface is unlikely to be shiny enough for the cling to work successfully. All clings on a static vinyl which forms a barrier between the paint and surface and it is important that they are applied the correct way around to avoid transference of any paint to the window or mirror on removal. An application sticker is on the packaging to advise which side should be applied to the surface. You can wet the back of the design to aid application and help remove air bubbles - full instructions are provided with each cling. To use on non-shiny surfaces, please select the 'conversion to wall sticker' option when ordering & your cling will be supplied as a sticker with a removable adhesive. Find out more about stickers here
I want to use them on my caravan windows - is this OK?
You can use clings on any shiny surface however as caravan windows are not usually made of glass, it is important to ensure you apply the cling the correct way round so the vinyl on the back creates a 'barrier' between the cling and the window to avoid the paint fusing with the surface. To aid removal, it is important to ensure the vinyl side is placed on your window, not the painted side. To ensure that this is the case, the

packaging has a sticker which clearly indicates the correct side of your design to place against the window

. If you are not sure which is the painted side, please just give me a call on 01732 862545 or e-mail for clarification. If you have a cling which has been placed on the window on the painted side which does not want to come off, wet the cling as much as possible with water, allowing the water to soak into the paint whilst using a plastic scraper to ease the edges up. (Do not use a metal scraper as this will scratch the surface of the window). This may take some time but lots of water, gentle scraping and some sharp tugs should eventually remove the cling.
Can I use them on the outside of windows?


This is really not recommended. These are for internal use as they are water-based and therefore should not used on the outside of windows. The design will show through the glass clearly so you will see it perfectly well on the outside (even through double glazing). In some instances, designs can be created more permanent for external use but these will not have the lifespan as when they are used indoors. Please contact me for further information if required.

What are they made of?


All my products are made of quality, water-based, glass paint. They are all non-toxic and therefore safe for use in children's rooms and around pets. Don't forget that they are all totally handmade and therefore each one is unique - no two designs will be exactly the same. It is at least a three-day process to produce each design leaving drying time in between each stage. Once they are dry, they look just like stained glass. Larger designs are created on a special material to aid application on your chosen surface. Stickers are also painted on a carrier which gives their unique sticking properties.

Will they mark my windows?


No. There is no glue to mark your surfaces. Simply clean the window after removal as a faint 'outline' may be visible where the window has been covered. Simply clean the surface thoroughly to remove this.

Do I need to remove them to clean the item they are on?
Not necessarily. You can clean your window, tiles, etc as normal using a liquid (not cream) cleaner. If the item is to be washed in water (e.g glass vase or ceramic bowl) it should be removed prior to washing as these decorations should not be immersed in water.
What colours can I choose from?
Some designs are in standard colours however many can be made in any colour you require - a colour swatch reference is available for you to make your choice from. Click here to view the chart (PDF file - opens in a new window)
Can I use them more than once?


Yes. If you do not plan to leave your design on the window, mirror, etc all year around, the decorations can be removed and stored for re-use year after year.

How should I store my seasonal clings to be able to use them next year?


Each decoration is supplied in protective plastic packaging which contains full care instructions and should be retained to store your peelable decorations in whilst they are not in use. It is essential that they are stored in plastic (you can use a plastic file folder for storage if you do not have the original packaging). Please ensure that designs are separated from each other so they do not stick to each other and do NOT use paper or clingfilm as this will stick to the design and make them unusable.

HELP! My design has folded and stuck to itself whilst I am putting it up/taking it down - can it be saved?


Usually! Carefully peel the design apart - if it is warm you can try to save your design by putting the whole thing in the fridge for a few minutes then very carefully and slowly peel the stuck pieces apart trying not to force and stretch the design. Please note, this is not guaranteed to fix the problem but it should work in 99% of cases.

What makes them peelable and will they lose their stick?


All these products attach to a shiny surface using static. There is no glue to lose its 'stick' which means that they can be used over and over again, even after they have been stored away for a long period of time.

My peelable window decoration doesn't seem to want to stick or some edges are curling. What can I do?


Whilst there is no glue to dry out and lose stickiness, it is essential that your window or surface is clean and dust-free as this will effect the static cling. If you are using a peelable design which has been stored which does not seem to adhere properly, give the back a good wash and allow to air dry. Please do not immerse the design in water for long periods. It will help create a good fixture if you ensure that your peelable stained glass designs are at room temperature and flexible before placing on your window or mirror. If they are too warm and 'floppy' they can be cooled for a couple of moments in a fridge to avoid a larger design sticking to itself whilst you are placing it on the surface (be careful not to make it too cold otherwise it may become brittle!) You can also use the warmth from your hands to retain a good flexibility and if necessary a quick blast from a hairdryer on a cool setting will restore brittle clings to their best. A small amount of water can be sprayed onto the back of the cling or window to help with positioning. Ensure that the water is extracted by rubbing the cling (using fairly firm pressure) from the centre outwards, drying off any water with paper towel. This will help expel any trapped air behind. Should you have any issues, please do not hesitate to contact me and I can supply a repositionable adhesive for extremely troublesome areas if required.

Can I use them on a car window?


Yes. However, please note the the constant changes in temperature may shorten the life of your design. Please note the information below regarding removing designs as you may have extreme temperature issues inside a car.

How do I remove the design from a surface?

Please take care when removing items which have been in place for a long period of time and gently peel from the surface - do not force areas which do not want to peel initially, use the following techniques to aid removal. If they have been in place for a long period and gone through a myriad of temperature changes hot-cold-hot, etc. they may have 'over cured' and dried out too much which can make removal more difficult. In this instance, you can wet the design thoroughly allowing the moisture to 'rehydrate' the paint and restore some flexibility. Firstly, please ensure that the design is not too hot or cold. Room temperature is ideal as they will retain the full flexibility whilst removal is taking place. If it is too cold, they paint may crack and if it is too hot, it may be so well attached that it will stretch during removal.

Problem 1 - Too Hot - Wait until the cooler part of the day when your window may have cooled down. You can, if needed, use an ice pack or bag of frozen peas (wrapped in a cloth to prevent moisture) to cool the design down further if required. Please note, don't allow the design to get too cold or the paint may become brittle.
Problem 2 - Too Cold - You can use the heat from your hand to warm a design slightly or if necessary, a quick blast from a hairdryer in extreme circumstances may be required. Be careful not to overheat as you may make the design too hot to remove and excess heat may even crack your window!

Can I use my designs in a bathroom or shower room?
Yes, these designs are beautiful additions to a bathroom or shower room. They should however be placed in positions where they are not going to get wet on a day to day basis. Please note that very steamy conditions may cause some colours to temporarily look milky or more opaque than usual but your design will return to the normal, bright colours as soon as the moisture clears from the air. If you would like to place designs on a shower door, please ensure these are on the outside of the glass to ensure they remain as dry as possible.
How long will they last?


If used and stored carefully and properly, they will last for many years. There is no guaranteed lifespan as many external factors can effect this in individual cases. Please note designs that have been in place for very long periods may be damaged on removal and therefore not be able to be reused on another surface. However when kept in one location, I have found that these designs can last 15 years and even longer!
See Also

Finally, don't forget the really exciting part of these peelable decorations is that you can now change your decorations to suit your mood! And all still at a fraction of the cost of stained glass
If you still have any queries, please do not hesitate to contact me using the Contact Form and I will be happy to help