Winners in Waiting - Online Shop
livepages::jquery();?>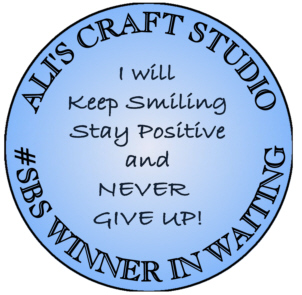 What is SBSWIW?? Well, it started in April 2012 when I made myself a 'badge' just for my own motivation during the time I was trying to win an SBS retweet. I tweeted my SBSWIW badge to Theo Paphitis (he loved it - incase you're wondering!) & lots of other 'winners in waiting' picked up on it & it grew into an amazing group of people who all support each other during their weekly attempts to get into the elusive winner's club!
I was fortunate enough to join the #SBS club in November 2012 so it just goes to show that remaining positive and not giving up does work!! However, those no longer 'in waiting' don't disappear - we all keep up our support of all the other #SBSWIWers! Its a great club to be part of!
I am still a winner in waiting for Jacqueline Gold's WOW (Women On Wednesday) so created myself a badge for that too!
So, you're still waiting for a SBS, WOW or MOM retweet?
Keep smiling, stay positive and most importantly of all - Never Give Up! Remind yourself of this every day with these Winner in Waiting products.
Purchase any of these products and you will receive £2.00 off a Winners cling when you do finally get that much sought-after retweet from Theo Paphitis or Jacqueline Gold!!
Order now and join the 'Winners in Waiting' Club!
Showing 1 - 9 of 9 results
Special thanks for giving permission to use their artwork go to:
Dylan at @AquaDesignGroup for gold #SBS Badges, plus #WomanInBiz, #MenInBiz, #LadyInWaiting, #QueenOf and #KingOf badges. Aqua Design Group are a graphic design and print specialist in Stockport with a passionate & sensitive approach to their clients - what more could you ask for! Visit www.aquadesigngroup.co.uk
Barry at @LF_Designs (see above) and Alison at @PurpleDogNet for the wonderful #PurpleBiz Business of the Day & Purple Dog Bath & Bristol #PDNBB_bizofweek badges. The Purple Dog Network helps to connect thousands of UK Businesses with potential customers, suppliers and contacts who can help them to generate the leads and sales they need. Visit www.thepurpledog.net
Mel at @melogodesign for the #twittersisters badge. Melogo specialise in logo design and corporate branded materials with a reputation built on dedication, love of design and 100% client satisfaction. Visit www.melogo.org